I came across this lens last week while I was looking for an 8x10 back Deardorff back.
Since I've never heard of a "Deardorff lens", my interest was peaked and I decided to "acquire" ... $249, shipping included, was a risk buy I could take. Not that I needed another Petzval lens in this size and focal length ...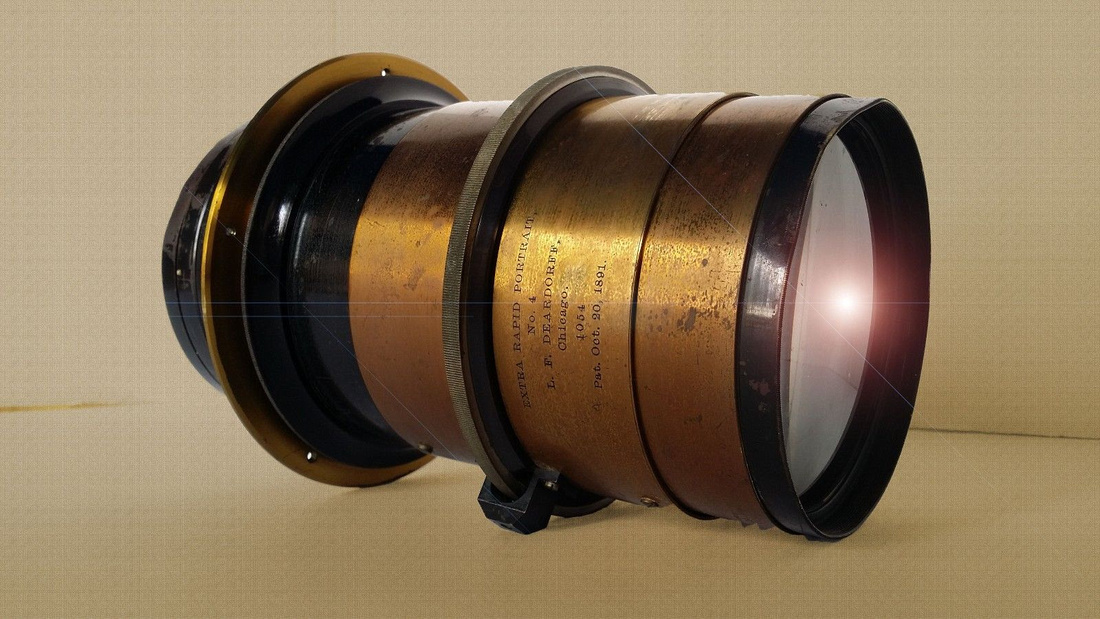 I've seen by now my fair share of brass lenses. The "Extra Rapid Portrait #4" in my mind undoubtedly referred to a Petzval design, most likely an 8x10 lens, possibly covering 11x14 at portrait distance.
On first sight, the lens looked like it was built by Bausch & Lomb. B&L built Petzval lenses for quite a few other "brands" who simply relabeled. Quite common in the industry, even in the beginning of the 20th century.
What peaked my interest though in this particular sample, was the mention of a 1891 patent and the suggestion there was an extra split in the lens tubes before and after the iris.
Googling the patent date brought up a patent from Gundlach covering intellectual property regarding increasing and decreasing the distance between front and rear lens group in function of angle coverage and/or iris opening. The focus curvature, as well as spherical (and other) aberration, is/are "improved" by doing so.
Further online research also resulted in a page out of a 1903 photography catalog sporting Deardorf portrait lenses. Clearly B&L manufactured but no immediate sign, or description, of the ability to change the distance between front and rear lens group.
So the research continued. Odd to see that I paid less than the 1903 quoted catalog price. Finally a steal !!!
Then the following popped up from "The history of L. F. DEARDORFF & SONS, INC, as told by Mr. Merle S. Deardorff" ... I'm only reproducing the relevant text about the Deardorff Petzval and the associated Gundlach Patent
Mystery solved before the lens even arrived on my doorstep.
Now that I've held the above lens, I can confirm there are two shrouds holding the lens groups, driven by a synchronized helicoid, effectively enabling the lens to shrink/extend a total of 2.5".
I'll need some elbow grease to unlock the helicoids and clean possibly over 100 year old dirt from the lenses. Goal is to have this lens mounted on a lensboard for my 8x10 Deardorff Commercial Studio camera. One more project until I can take images with this beautiful find !
I came across some more tidbits and images after my July 20th post on the subject. Not enough for a follow up post, so I'm adding it here since a few sites linked to this post already.
I found few more images on-line regarding this 1891 Gundlach patent Deardorff Petzval lenses.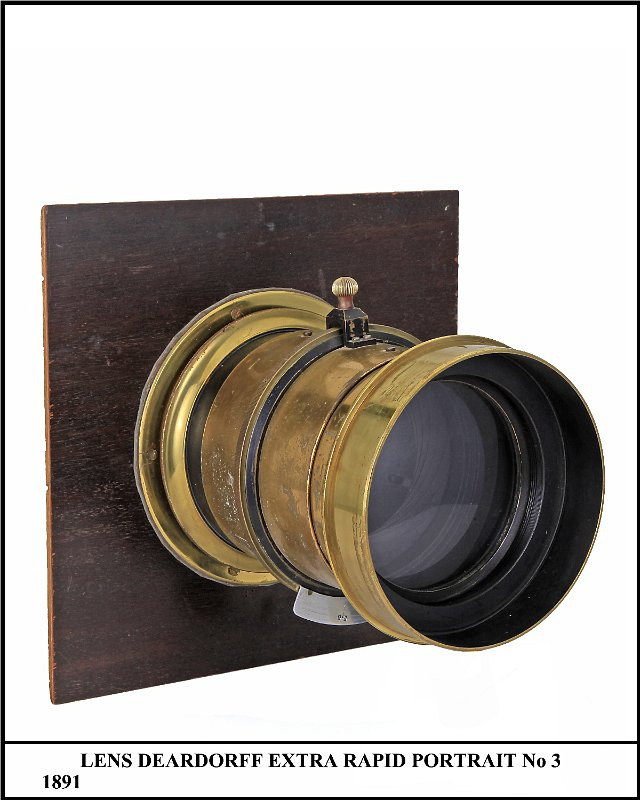 The image above illustrates as the caption indicates, a No 3 lens. Note the nice handle to turn the helicoid ... then handle is missing on mine. Equally note the aperture scale at the bottom of the ring. [(c) R. Turner]
Next image of two lenses was duplicated from Ken Hough's Deardorff website [(c) L.F Deardorff & Sons] to ensure a permalink here. Equally shows a #3 ... note the differences around the handle to turn the helicoid. I also want to draw attention on the construction of the rear cell. Each lens is mounted in its own ring and the set is screwed together. This allows to change the distance between both rear elements. I've not found markings on my copy but these marks may have well been there in light of another discovery ... keep reading ...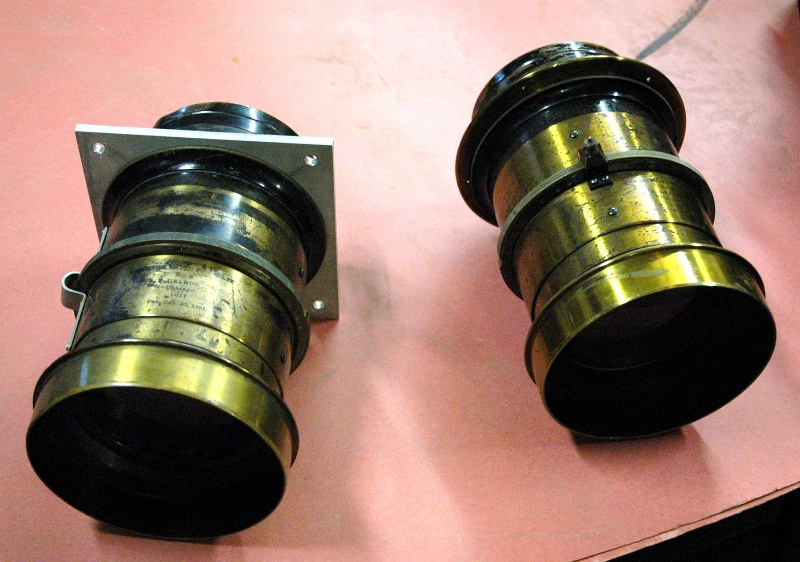 I believe next image to be equally important in this whole discussion. It shows an 18" Deardorff Petzval without the helicoid feature to change the distance between front and rear group.
This confirms there are two types of Bausch & Lomb "Deardorff" labeled Petzvals out there ... with and without the 1891 Gundlach Patent feature. So the patent feature may be quite rare as stated by eBay seller "attrevida" in the 2014 sale on Ebay of a No2 Extra Rapid Portrait Deardorff.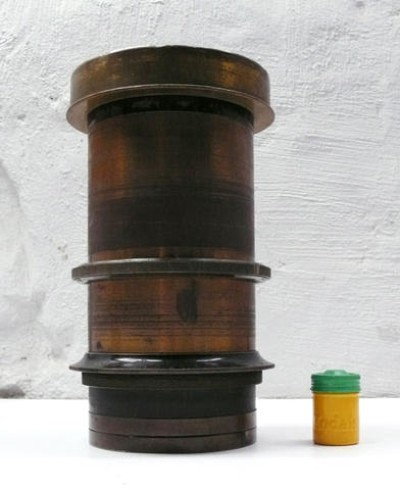 The Ebay posting regarding the above "Deardorff Extra Rapid Portrait #4" doesn't state the 1891 patent date and the knowledgeable seller would have included that tidbit. What the text does mention though is equally important in any discussion on rebranding, Bausch & Lomb and diffusion devices in Petzval lenses.
[START QUOTE}
"Super Rare & Massive Deardorff Petzval Portrait Soft Focus Early 20th Century Dry & Wet Plate Collodion Era Antique Brass Lens with Original Lens Shade but No Mounting Flange. Ca. 1910's. 18" Focal Length for 11x14 & 8x10, Maximum aperture of f4. This is a very interesting lens because Deardorff didn't make lenses and it was probably made to be sold with Deardorff cameras of the period. The lens is marked Extra Rapid Portrait No. 4, L.F. Deardorff Chicago 1010. This lens has a classic Petzval design with a an Achromat cemented pair in the front group and an air spaced pair in the the rear group but this lens also has a special feature in the rear group that allows for the incremental separation of the two rear elements to create a soft focus diffusion across the entire plane. This feature was first introduced in the Dallmeyer Patent Portrait Petzval lens of 1866. Dallmeyer reversed the configuration and added the separation device. This Deardorff lens works the same way. There are four settings from sharp to the most amount of diffusion but I have unscrewd the outermost element well past to number four setting for extreme diffusion which comes in hany for really moody and atmospic effects. Other lenses that share this type of diffusion divice are the Wollensak Veslostigmat Series II and Vitax Petaval Portrait, The legendary Cooke Anastigmat Soft focus, and the Graf Variable. This lens was probably made by Bausch & Lomb, one of the highest quality American makers of the period that had several licencses from Zeiss Jena to produce the Protar, Unar and other popular Anastigmats, B&L also manufactured many popular soft focus lenses including the Sigmar and Portrait Plastigmat. This is the only lens I've seen in many years of collecting that bears the Deardorff name. A true collectible that is a highly functional and interesting photographic and artistic instrument.
18 inch (457 mm) Focal Length. F4 max apertured. To Cover 11x14 and 8x10 formats. This lens was designed fot portraits on 11x14 and will offer beautiful shallow depth of field and fall off from fast max aperture of f4 and further fall off from the curved field. On 8x10 it will offe even more pleasing perspective due to the long focal length on the smaller format. These Petzvals are known for creating a Swirly Bokeh and beautiful fall off due to its curved field.
A great feature of this lens is that it has its own aperture iris that is fully functional. Most Petzval Portrait lenses had Waterhouse stops to stop down the lens. The stops were often lost over time. Or, if early for Daguerreotype photography the lenses were never cut for stops and shot wide open. The aperture scale on the Deardorff lens is marked in the US System." [END QUOTE]
Bold emphasis is mine ... Cheers,
Rudi A.